Microsoft Office is a very helpful tool widely used in home, office and schools, to organize, manage and present information, data and figures. It includes Word, to create, polish, and share documents; Excel, to analyze and visualize data; PowerPoint, to create, collaborate, and effectively present ideas; OneNote, to organize ideas into a digital notebook; Outlook, to organize email, coordinate schedules, and stay up to date with contacts;  Access, to create custom database and process data; and Publisher, to print and share professional-looking publications.
When it comes to systematic Microsoft Office training, many would questioned whether it is necessary to undertake professional training for a software that we are already using in our everyday lives. Most of us feel pretty comfortable with using MS Office programs already. However, knowing only the basics of MS Office will not make you stand out in your job search, and practicing only 50% of the functions in MS Office is not enough to advance your career. Now let's find out the reasons why you need to learning MS Office, professionally.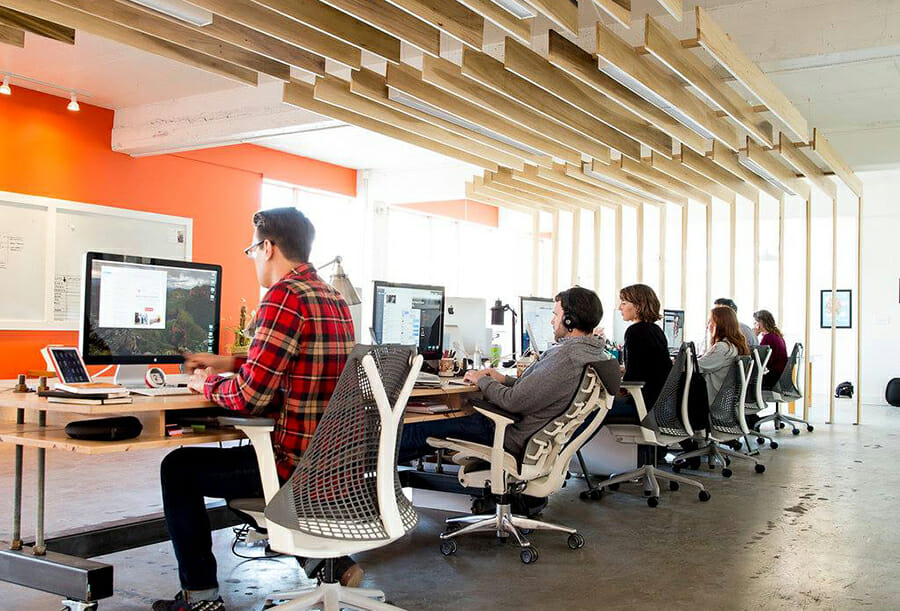 image from: http://www.biz417.com/Biz417/November-2015/The-Pros-and-Cons-of-an-Open-Office-Environment/
Used by almost every company worldwide   
MS Office is the most widely used tool for documenting and organizing information, delivering  presentations, as well as processing data in offices environments across the globe. It has been designed to be user friendly, interactive and powerful, which drastically helps increase users' productivity within the office environment. 
MS Office comes with great compatibility that allows users to transition between different operational systems when needed. It is compatible with the major operating systems such as Windows PC and Mackintosh OS. With the help of cloud computing, MS Office files can be accessed, edited and shared anywhere; its web-collaboration features allows users to easily save any file to the online server and access it later. MS Office is the most commonly used productivity tool within professional environment thanks to its interactive and innovative usability, accessibility and adaptability. 
image from: http://www.lifehack.org/articles/work/7-lessons-learned-from-job-hunting-experiences.html
Helps you step up your game in job hunting
Open a job posting from any industry, you'll notice that Microsoft Office efficiency is listed under required skills and qualifications for all positions. If fact, MS Office proficiency is one of the top 3 skills desired by employers. Whether you are looking for a job in Business Accounting ,  Office Administration , Project Administration , Sales , or Insurance Advisory , in current job market, knowledge of Microsoft Office tools is very essential. 
Documentation, data handling and presentation is the need of every existing business. The importance of MS Office tools like Word, Excel and PowerPoint is quite significant to all types of businesses. When looking for a job, proficiency in MS Office will position you as the most promising candidate to employers.
In addition, proficient MS Office skills will bring you confidence and increase your productivity when delivering your responsibilities on the job. Microsoft Office training can give you the confidence to use the tools you are provided. Having your MS Office skills professionally trained with significantly increases your work efficiency and confidence, which will also bring you with a sense of job satisfaction at work.

Industry-recognized certification will help advance your career
Microsoft provides a widely-recognized certification that you could earn after your training. According to Microsoft, you could demonstrate that your have the skills needed to get the most out of Office by earning a Microsoft Office Specialist (MOS) certification in a specific Office program. Holding a MOS certification can earn an entry-level business employee as much as $16,000 more in annual salary than uncertified peers.
Becoming a certified Microsoft Office Specialist is a huge boost on your resume and will definitely increase your chance of getting hired by your dream company. When employers see that you are certified, they will recognize your skills, effort and dedication, and they are often more willing to consider a higher pay level due to your skill sets.
At Academy of Learning College , our professionally designed Microsoft Office Training program prepares students to join the workforce at a skilled level. Skilled Office Administration Specialists are better prepared to advance to their chosen career areas in today's business environment. Each student graduates with a sense of achievement, ensuring the beginning of a successful career. We fulfill the needs of learners by developing customized programs for each student, while meeting the requirements for convenient and effective training at an affordable cost. Browse our  program list  by province and find the best program that suits your needs!
Save